Come learn what's new about FusionReactor 8.3 in the first of what are planned to be a series of Youtube Live webinars from the folks behind FusionReactor. In this first episode, FR Technical Support Engineer Michael (Mikey) Flewitt and I will be teaming up to introduce FusionReactor 8.3.0, which should be released very soon.
Join us on Feb 3 at 2p US EST (and set a reminder/subscribe) here: https://www.youtube.com/watch?v=f0TKfnhIE24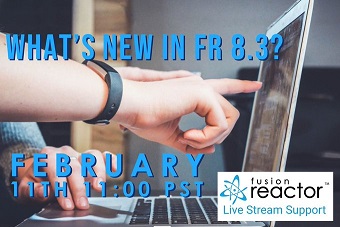 Besides discussing and demonstrating what's new in the 8.3.0 release (which includes several features), we will of course be open to your questions. That's the whole point of going to the Youtube Live format!
What to expect in future episodes
And again, this is the first of what are planned to be a series, with future episodes addressing not only FR feature changes but reviewing FR features you might have missed, and as important: how to use FR to solve important problems in CF, Lucee, and Java servers. We're also open to addressing broader issues related to such technologies, in an "ask me anything" format.
So come along, and do subscribe, and bring your questions and comments. We're trying to make it a resource that will benefit many. Of course, it's our first, so we will iron out the kinks as we go!