Note: This blog post is from 2006. Some content may be outdated--though not necessarily. Same with links and subsequent comments from myself or others. Corrections are welcome, in the comments. And I may revise the content as necessary.
While developers who've used CFML for a long time will regard some topics as old hat, we have to remember that there are folks who either have come along recently or simply never used some feature. This is one of those topics, and since I answered it on a list, I offer it here.
I'd like to start doing that more often (reformatting some answer I give on some list, so that others may learn from it.) As in this case, I'll refer to such as CFFundamentals and create a category for them so that interested readers may find them more readily.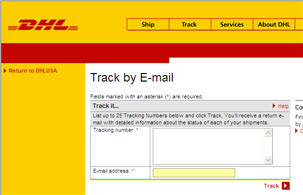 The problem
Someone wrote wanting to mimic (in CFML code) the submission of some data to a form that they saw happening within an Airborne Trackship (http://track.dhl-usa.com/TrackEmail.asp) page.
They saw that the form submitting to that allowed one to enter an email address and some tracking numbers to have a status email sent back to that address. Using "view source" in the browser, they observed that the form actually called a Javascript form which submitted the form to TrackEmail.asp?nav=TrackByEmail. Since this was on a page at http://track.dhl-usa.com/, they realized they'd need to submit to http://track.dhl-usa.com/TrackEmail.asp?nav=TrackByEmail.
They also noticed that the form had two input fields, txtTracknbrs and txtEmailAddress, so they tried to put together a CFHTTP request that tried to submit to the form using this URL:
http://track.dhl-usa.com/TrackEmail.asp?nav=TrackByEmail&txtTracknbrs=nnnnnnnnn&txtEmailAddress=someemail@address.com
It didn't work. They asked if anyone knew why.
My Response: He was close, but needed to understand a couple of points
Here's what I wrote:
I think your problem is in presuming that the Javascript method builds a request that looks like the one you tried in CFHTTP. I just reviewed the page, and I see that it's a form, with a METHOD=POST, and so your CFHTTP needs to send its info in the way a form post would. And that's NOT by passing the variables on the URL as you have. (One may argue that they can write CFML apps that accept either FORM or URL variables, but the page being called is an ASP page, so we can't make that presumption.)

With that, I changed your CFHTTP to the following and it worked (you should be getting an email soon, as it told me the request was accepted). Try it yourself:

<cfhttp url="http://track.dhl-usa.com/TrackEmail.asp" method=

"POST"

> <cfhttpparam type=

"URL"

name=

"nav"

value=

"TrackByEmail"

> <cfhttpparam type=

"FORMFIELD"

name=

"txtTrackNbrs"


value=

"nnnnnnn"

> <cfhttpparam type=

"FORMFIELD"

name=

"txtEmailAddress"


value="someemail@address.com">

</cfhttp>

<cfoutput>

#cfhttp.filecontent#

</cfoutput>

Note that it uses a TYPE="URL" for the nav query string value (as that WAS passed on the URL), but uses TYPE="FormField" for the form fields, since those are passed as form fields. You were right in getting the exact names of the form fields as used in the form fields of the form. That's critical as well.

I'll point out as well that when trying to mimic such forms in CFHTTP, it's also sometimes critical to send along any hidden form fields. There were two on that form, but I left them off and it seems to work. IF you found you needed to add them, just add them as more TYPE="FormField" values.

I should note as well that sometimes when trying to simulate a form submission, you will also need to send along any cookie values that might be being sent by your browser to the server. Those aren't shown in the form. You could use browser/server proxy tools (like the free Fiddler or Firebug tools) to detect what's being sent along.
Hope that may help other readers.
I'll add in this blog entry that regarding that last point, about using HTTP proxies to study the browser/server communication, I wrote about those previously in:
Alternatives HTTP debugging proxies, for debugging
For more content like this from Charlie Arehart: Need more help with problems?

If you may prefer direct help, rather than digging around here/elsewhere or via comments, he can help via his online consulting services
See that page for more on how he can help a) over the web, safely and securely, b) usually very quickly, c) teaching you along the way, and d) with satisfaction guaranteed