Note: This blog post is from 2009. Some content may be outdated--though not necessarily. Same with links and subsequent comments from myself or others. Corrections are welcome, in the comments. And I may revise the content as necessary.
---
Update in 2019: Though this post is from 2009, I still use and recommend this tool daily, so nothing about what I said below has changed (except of course where I indicate other informational updates in 2010 and 2013). And to be clear the tool is updated constantly and sports a modern interface (unlike the favored "old tools" of other folks, which may look the same as they did 20 years ago).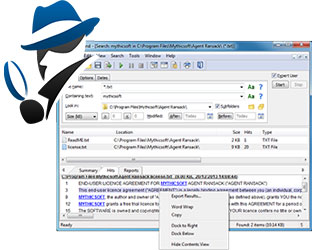 Ever need to do a search for files with some given text (or files of a given name) in Windows? I realize you may use a favored file editor to do it, or (worse) may rely solely on the anemic Windows find. I'd like to point you to an awesome and free alternative.
For years I've used a great freeware tool, FileLocator Lite, and I love FLL for several reasons (as does nearly everyone I show it to). Read on for more.