Note: This blog post is from 2011. Some content may be outdated--though not necessarily. Same with links and subsequent comments from myself or others. Corrections are welcome, in the comments. And I may revise the content as necessary.
I'm delighted to announce that I'll be presenting at next week's
RIAcon
conference in the DC area, August 6-7 2011.
My session will be "CF911 ColdFusion Performance Report 2011", a new talk/concept I've created. Here's the description:
Starting a new tradition, veteran CF troubleshooter Charlie Arehart will present a review of the performance aspects of making various choices when working with ColdFusion, especially in recent version(s) of ColdFusion. Leveraging the important value of real load testing (as opposed to the less accurate conclusions from "large loop" testing), Charlie's annual report will help attendees appreciate the performance-related improvements of new/changed features, as well some older features where choices can make an important impact. Depending on the timing of the release of "CF next", the session may cover its new features, but it will certainly cover some things new in CF 9 and 9.0.1.
As I note there, I hope this may become an annual event which I might present at this and/or other conferences. (It's an idea rooted in a similar presentation made by a former colleague, from my first IT career from 1982-1997, where he presented the annual "Jim Damon model 204 Performance Report".)
About RIACon
As for RIAcon, I hope you're considering it. Phil Nacelli and the folks at AboutWeb have been working hard to put together the conference, which in some minds is kind of picking up where CFUnited left off. It will be a more intimate event, much like CFunited was when it first started.
Indeed, some will recognize that the location for RIAcon is across the street from one of the hotels where CFunited was held in its early years, right next to the Twinbrook Metro station in Rockville, MD.
A Personal Connection to the Hotel Location
Even more of a delight for me personally is that the hotel (The Legacy Hotel) is right on the land that was once the location of Congressional Roller Skating Rink (until the late 70's), where my sister and I (and many friends) spent our teen years pretty much whenever we weren't in school. Yep, I was a skating nerd: dance, figures, freestyle, and more. Here's incriminating evidence!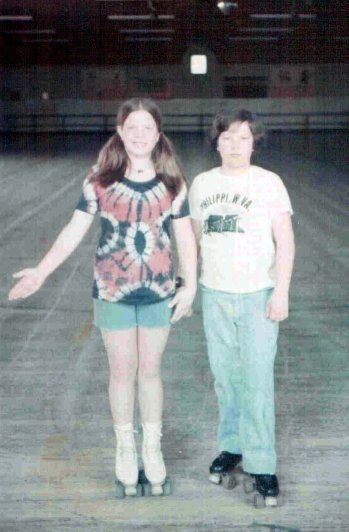 For more content like this from Charlie Arehart: Need more help with problems?

If you may prefer direct help, rather than digging around here/elsewhere or via comments, he can help via his online consulting services
See that page for more on how he can help a) over the web, safely and securely, b) usually very quickly, c) teaching you along the way, and d) with satisfaction guaranteed