Note: This blog post is from 2009. Some content may be outdated--though not necessarily. Same with links and subsequent comments from myself or others. Corrections are welcome, in the comments. And I may revise the content as necessary.
I just helped a customer today solve a problem where he swore he had applied the latest Cumulative Hotfix (CHF) for CF 8.0.1, but I showed him that instead he had
mistakenly applied the CHF for 8.0
. I know how it happened, and showed him. I hope how you can avoid the same mistake.
Update: David Collie of Adobe has informed us (via comments below) that he has now fixed the two pages with the problems reported here. We thank him so much! Even so, the rest of the information still stands, since some may have suffered the problem of getting the wrong hotfixes while the problem was in place, or even despite his changes, so I'll leave this entry as is to help them.
The problem: you may have applied CHFs for 8.0 by mistake
When checking to confirm if an 8.0.1 server has applied the CF 8.0.1 cumulative hotfixes, make sure that the file in the [cf_root]/lib/updates directory has a jar file name with "801" in its name, like chf8010003.jar. The problem is that it could easily, mistakenly be an 8.0 CHF instead, such as chf8000003.jar (note the "800" reference).
How could that happen? More in a moment. But the problem is that CF wouldn't complain about this (while applying the fix in the CF Admin or if you just dropped it into the lib/updates and restarted CF.) It would just be ignored, and the CHF would not do anything--and you would NOT get the updates you expected in the 8.0.1 CHF.
The root cause of the mistake
So how does this happen? I know at least one source of the confusion. I've complained over and over about this: there's an updates page at the Adobe site which starts out offering a link to the 8.0.1 update (itself). There are no CHFs for it. Rather, the problem is that right after its shown, the page lists the 8.0.0 CHFs! See the screenshot below.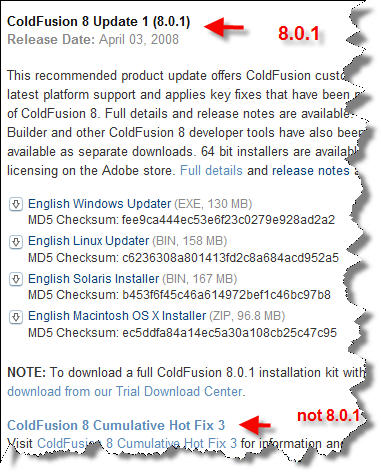 The problem is simply that no one has gone back and updates this page to put the links to the 8.0.1 CHFs. They're just not there.
So many people may easily miss that those are in fact the CHFs for 8.0, not 8.0.1. Worse, since there 3 of them (just as some may know there are 3 for 8.0.1, currently), it's even easier for someone to make this mistake and think they're getting the 8.0.1 CHFs.
Again, since applying them gives no error, I would bet that many are in this situation and don't even realize it (and are not getting the benefits of the hotfixes.) So follow those instructions above and check to ensure that you really do have a jar with 801 in the name (in either [ColdFusion8]\lib\updates in Server mode, or in [JRun4]\servers\[instancename]\cfusion.ear\cfusion.war\WEB-INF\cfusion\lib\updates in Multiserver mode. Note that the "." in cfusion.ear and cfusion.war is instead cfusion-ear and cfusion-war, for the cfusion instance only.)
Is the customer to blame for being careless?
Some may sneer that those who make this mistake "get what they deserve", and that it's about "thinning the herd", if people are "so careless". Sorry, I don't agree.
This is a very easy mistake to make, especially for folks who by and large don't spend their days doing this sort of stuff, who might easily assume that what followed the 8.0.1 update on that page was its hotfixes.
And since this "updates" page I pointed to is what's offered on the right of the CF product page, it's just all the more easy to be found--and unfortunate that this problem has been allowed to linger.
So where does one find the 8.0.1 CHFs? and CFH 3?
I wish I could point you to one page that lists links all the the 8.0.1 CHFs, but sadly, that's still another point of annoyance. Some will know that there is this page, ColdFusion Hot Fixes (ColdFusion 8 and later).
But guess what, even IT does not have the CHF 3 listed! :-(
Please, Adobe, fix these things.
You can find CHF 3 for CF 8.01 here.
Anyway, do bookmark that updates page. We can only hope that in the future it will be the place to keep an eye on the latest CHFs for each release of CF going forward.
For more content like this from Charlie Arehart: Need more help with problems?

If you may prefer direct help, rather than digging around here/elsewhere or via comments, he can help via his online consulting services
See that page for more on how he can help a) over the web, safely and securely, b) usually very quickly, c) teaching you along the way, and d) with satisfaction guaranteed