Note: This blog post is from 2006. Some content may be outdated--though not necessarily. Same with links and subsequent comments from myself or others. Corrections are welcome, in the comments. And I may revise the content as necessary.
Did you know there's a nifty Chart Designer built into CFMX 7? While Webcharts has sat under CFMX's charting since 6.0, this designer tool is newly available in CF7 only, as the webcharts.bat file in the cfusionmx7/charting subdirectory. It allows you to create still more useful and attractive charts than are built into CFCHART, and then you can leverage them using CFCHART. For those who've followed CF7 closely, this is old news, but for those who are still getting up to speed in CF7, it may be quite newsworthy.
I'd like to point you below to a few references to learn more. First, here's a screenshot of what the tool looks like: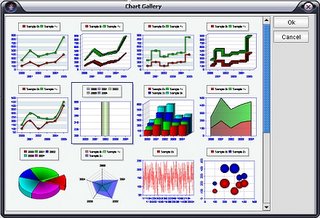 And here are some of the resources to help guide you, from blog entries to articles to the docs to podcasts. I'd also like to thank Dale Fraser of the CFAussie mailing list whose note today first clued me into this stuff. Enjoy:
Note as well that there is a pdf in that charting directory, a 35 page Designer User's Guide. And pay special attention to the available options in the designer under file>setup, in particular the 2 tabs, designer and server.
There is a more complete (125 page) WebChart Developer's Guide.
Finally, some other useful CF charting tips are available in a blog that was devoted to the subject, http://cfchart.blogspot.com/ . Though he only made entries June and July 2005, it's worth a look.