Note: This blog post is from 2015. Some content may be outdated--though not necessarily. Same with links and subsequent comments from myself or others. Corrections are welcome, in the comments. And I may revise the content as necessary.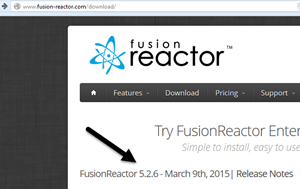 FusionReactor users will want to know that there was a new update released today, 5.2.6. The update is free for those on 5.2.x releases as well as those with maintenance agreements. And you can just download the installer and run it to update your current version (even back to FR 5.0, if you've not updated FR 5 since you first installed it).
But more than that basic info, I'd like in this post to take advantage of the chance to share a few things related to the topic of upgrading FusionReactor, including some common questions I often am asked as I assist people in using it:
Where do I get the update?
How do I find out what's new in the update?
Should I hesitate about applying the very latest FR update as soon as it comes out?
How would you I know there WAS an update to FR available?
Do I just need to run the full installer or can I update just one file perhaps?
Do I need to restart CF (or Railo/Lucee/Tomcat, etc.) for the update to take effect?
Can I update FRAM and choose NOT to update my monitored CF/Railo/Lucee/Tomcat/etc instance?
Why do you keep referring to "CF/Railo/Lucee/Tomcat/etc"? I thought FR was a CF monitor tool?
What if I'm on an FR version older than 5.0?
For these and more, read on.