As much as many have been referring to the new release (known for now as "Project Stratus") as "CF2020", it's looking like it may be instead "CF2021",
if I'm reading the tea leaves right
. And maybe it's only the name, not the actual release year. Let me explain (Hey, the bright side is that "2020" as a year is one many want to forget.)
The "clues"
A first clue was when an engineer wrote a blog post on the CF portal a couple of weeks ago, describing it as an "overview of the SAML feature available in ColdFusion 2021." That last reference caught the attention of some of us (as I commented there, wondering if it was a slip or a foreshadowing).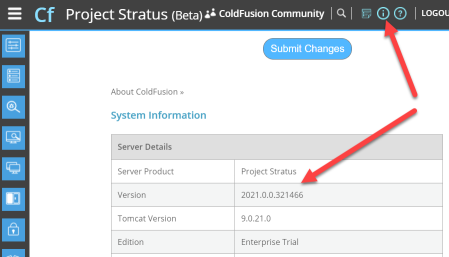 Beyond that, though, I think we may have pretty clear evidence/confirmation now, from the prerelease itself: I happened to notice for the first time today in working with the prerelease that the CF Admin page for "System info" reported the version as 2021.0.0.321466.
Same with the "settings summary" (on the first "Settings" menu on the left"), reporting: Version: 2021,0,0,321466.
FWIW, this is from the download that's been on the prerelease site since August, not some new download. I just hadn't noticed and hadn't heard of anyone else noticing it yet.
On Adobe's referring to it as "Project Stratus"
Of course, Adobe has tended to refer to the prerelease either euphemistically as "CFNext", or more often by its code-name, "Project Stratus". That's not unusual, of course. They've always given code-names to new CF releases--as far back as at least CF6 ("Neo")--and then used that name during the prerelease timeframe, only using the formal name once it's officially released.
I just wish they would drop the "stiff" formal product naming as in recent releases, "Adobe ColdFusion (2018 release)" and "Adobe ColdFusion (2016 release)". I suppose they have their Adobe-corporate legal reasons for that, but "Adobe ColdFusion (2021 release)" would be such an ungainly mouthful--which virtually no one else will use, opting for the simpler ColdFusion 2021 or CF2021, etc.
Breaking the "every two years" naming pattern?
But I think it seems safe to say that the next release will not be following the pattern of a name change "every 2 years" like we had with CF2018 and CF2016 (and before that CF11 in 2014 and CF10 in 2012). That's a bit of a bummer, though if it's only the name it will just look odd, but if it does come out in 2021 somehow still, then the "pattern" of time between releases is "kept".
Should be well worth the wait
Whenever it comes out, I'm sure most would rather see it "come out only when it's ready".
And this next release is indeed quite a substantial one, as I hope to talk about in upcoming blog posts, or which you can find out about yourself at prerelease.adobe.com.
Confusion finding current resources in the future
There is at least one negative ramification to this, though a rather minor one. There are various resources already written (blog posts, presentations, tweets, etc.) where folks (especially non-Adobe folks) have referred to this "next" release as CF2020.
If it does turn out to be CF2021 instead, then folks won't readily find those current/original resources. They'll have to think to search for cf2020 as well (or of course, "cf 2020", "ColdFusion 2020" , "coldfusion2020", etc.) Oh well.
Or are they just throwing us off the trail?
All that said, I'd love to find out that this is instead a bit of a shell game, "throwing us off the trail", to keep us guessing. :-)
Or again maybe it's another way to "put any references to 2020 in the rearview mirror". :-)
But I thought I'd share especially this screenshot since I'd not yet seen anyone else mention it.
For more content like this from Charlie Arehart: Need more help with problems?

If you may prefer direct help, rather than digging around here/elsewhere or via comments, he can help via his online consulting services
See that page for more on how he can help a) over the web, safely and securely, b) usually very quickly, c) teaching you along the way, and d) with satisfaction guaranteed