Note: This blog post is from 2008. Some content may be outdated--though not necessarily. Same with links and subsequent comments from myself or others. Corrections are welcome, in the comments. And I may revise the content as necessary.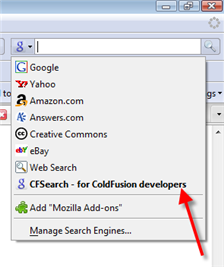 Someone who had learned of my
CFSearch
search engine (which searches over 1300 CF blogs, docs/article sites, and more) wondered if they could arrange to have it appear in the Firefox Search Bar in the top right of the browser. The answer is yes, via a simple Firefox add-on (which you can use to add any search site to the search bar).
This is a cool thing, because while you can choose from several pre-defined search sites (google, yahoo, amazon, ebay, and more), and you can click a "manage search engines" option to go to a Firefox site to find still more, you can only pick those that are listed on the Firefox site.
As with this gent, some search engines will just never be popular enough to be listed there. So how to add them?
Get the "Add to Search Bar" Add-on
The good news is that there is a FF add-on that does just what he wants,
Add to Search Bar
. It's simple and very effective (see the comments at the Mozilla page link, where many ask--rightfully so--why it's not built into FF.)
You can also learn more about it in someone else's blog entry highlighting it.
How about accessing a site's search feature using a single keyword in the address bar
FWIW, I'll also note that rather than use the FF toolbar, one can also set things up so that a given page's search feature can be accessed from a single address bar keyword (if they don't have or don't want to alter that search bar in the top right). I blogged about that in my TipicalCharlie site, where I sometimes blog things that aren't of a CF nature but might appeal to just anyone. (Update: tipicalcharlie domain is no more, but page recovered using Archive.org.)
One more time about CSEs
Finally, just as a reminder, the CFSearch site I created is what's called a Google "custom search engine". I wrote previously about them and how other people had also come up with their own variants. You may want to check them out, too.
For more content like this: Need more help with problems?

If you may prefer direct help, rather than digging around here/elsewhere or via comments, I can help via my consulting services
See that for more on how I can help a) over the web, safely and securely, b) usually very quickly, c) teaching you as we go, and d) with satisfaction guaranteed