Note: This blog post is from 2007. Some content may be outdated--though not necessarily. Same with links and subsequent comments from myself or others. Corrections are welcome, in the comments. And I may revise the content as necessary.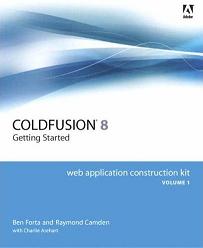 Well, today I got to experience something I hadn't in 5 years: holding in my hands a book with my name on it. I've not talked about it much, but I'm privileged and honored to be one of the contributors to Ben's 3-part CF8 books (contributing to all 3).
Author copies of the first one arrived today, just as Ray announced also.
The first book is formally called, the Adobe ColdFusion 8 Web Application Construction Kit, Volume 1: Getting Started.
Look for the others (Volume 2: Application Development and Volume 3: Advanced Application Development) to come out in the future. Don't ask me when. I really have no idea.
Still other books in my past
What book did I do 5 years ago that I mention above? The ColdFusion MX Bible, which I did with Adam & David Churvis and Hal Helms. It came out in early 2003, just after the launch of CFMX 6. It got a lot of high praise and good ratings, due mostly to the efforts of "the Churvii" (the father and son Churvis team), who did most of the book.
Here's some trivia: in what other CF book was I a co-author? It's tricky, because if you follow the link for my name on the books above, it shows them only. But search for Charles Arehart instead. You'll see that I contributed to the original CF 4 for Dummies, with John Paul Ashenfelter and Alexis Gutzman. I did just one chapter (on CFMAIL), and as John will tell you, we both decried much of its content but the publisher and lead author were hard-pressed to get it out at the time (2000) and it went as is. The reviews suffered accordingly. I've never blogged my association with that book until now. Hopefully time has cast it to an abyss so there's no harm. :-)
That same year, I also contributed to Professional WAP, doing the chapter there on Wireless programming with CF. (With those multi-author Wrox books, I was listed first so many think I was the lead author, which was not the case.)
Like most, these books are a team effort
And so it was these CF8 books: I'm just one of many hands that make up each of the CF8 books.
But I do want to thank Ben for including me in the books this round. It's a great team of folks spread out over all the books, and I really am grateful for the opportunity to contribute.
For more content like this from Charlie Arehart: Need more help with problems?

If you may prefer direct help, rather than digging around here/elsewhere or via comments, he can help via his online consulting services
See that page for more on how he can help a) over the web, safely and securely, b) usually very quickly, c) teaching you along the way, and d) with satisfaction guaranteed