Note: This blog post is from 2007. Some content may be outdated--though not necessarily. Same with links and subsequent comments from myself or others. Corrections are welcome, in the comments. And I may revise the content as necessary.
I want to share some news with those who may have noticed recent challenges with the Adobe LiveDocs, especially for CF8, and a challenge in commenting in them. All is resolved now. I've been working in the background with the Adobe gent in charge of this (who may prefer I don't share his name) and he's been great about attending to and resolving these. There's also good news: they seem faster (to me) than the CF7 livedocs.
First, you CAN now get to the livedocs...
As some noticed, there was a brief time in recent days when you couldn't get to the livedocs at all (for CF8 or otherwise). You'd get stuck in a loop on a main docs page. That's since been fixed.
But note that you may need to take a (good) detour...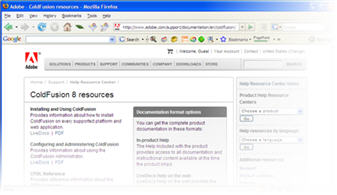 But about that "main docs page", yep, it's worth noting that trying to go livedocs.adobe.com will no longer send you to the livedocs front page but rather will go instead to a new page I'll call the main Adobe docs page.
There, you have to pick which doc you want to see from a select control, and further the page you're taken to offers both a link to the livedocs and to the PDF docs. (It was the link from there to the livedocs that was broken last week, sending you right back to this page.)
Now, some may be annoyed that they get sent here. I just want to get to the livedocs. Well, if you know the URL for your product, you can, such as for CF8 or CF7.
There's more than the livedocs: PDF; and the print versions you can buy
But I do myself like that they've sent people to the main docs page first, if they don't know a short-cut. So many people never knew of the PDFs. They're nice to have sometimes.
Also, that page offers a link to the printed docs (for now, only the CF7 docs are for sale, as the CF8 docs may not be available until late August).
I've blogged about buying the printed docs before. I think for many it's the best $50 bucks they'll spend for 2500 pages of content.
New look for the CF8 docs...and faster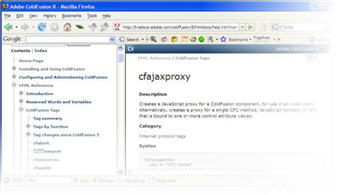 If you do go to the CF8 livedocs, you'll find that they have a new look compared to the CF7 docs. Also, at least it seems to me, they're much faster.
Yes, they're still a framed interface, but that's not the end of the world--and if you need them all as one, remember the PDFs, and the HTML form available on your machine where CF is installed (C:\ColdFusion8\wwwroot\cfdocs\htmldocs on my machine).
Some docs retired...
I will point out that sadly, one book from the CF7 livedocs doesn't seem to have been updated for CF8, the "Getting Started Building ColdFusion MX Applications". Again, this was a hidden gem that I think many missed and would get great value from. If you're moving from 5 or 6 to 8, please do take time to read this 150 page guide. It's really quite good.
Also, two that were available in HTML/PDF form (not on livedocs) that also seem to have been retired are the "CFML Quick Reference" and the awesome 60-page "Migrating Applications to ColdFusion MX 7". Again, if you're skipping 7 (or used it but never really took full advantage of it), check out those docs.
And yes, Virginia, you can now make comments...
Finally, and perhaps best of all, some may have noticed if they DID get to the CF8 livedocs that for some reason, the ability to comment was gone. That, too, is finally fixed. Thanks, Randy! :-) (Doh! Ok, I'll use his first name. He knows who he is, and some of you. If he wants to speak up and identify himself, I'd welcome it.)
So get out there and start commenting away. Let's share what we learn as we pour through the CF8 docs, whether online, in print, in PDF, or in HTML.
I'll have a little more to share about the commenting system and some related features in an upcoming note.
For more content like this from Charlie Arehart: Need more help with problems?

If you may prefer direct help, rather than digging around here/elsewhere or via comments, he can help via his online consulting services
See that page for more on how he can help a) over the web, safely and securely, b) usually very quickly, c) teaching you along the way, and d) with satisfaction guaranteed