Note: This blog post is from 2006. Some content may be outdated--though not necessarily. Same with links and subsequent comments from myself or others. Corrections are welcome, in the comments. And I may revise the content as necessary.
Those who know me well know I'm a big fan of keyboard shortcuts. I could give a whole session on them (and perhaps someday will), so I want to share one that I learned and which is useful if using Eclipse, CFEclipse, or FusionDebug. While many know ctrl-tab will swap among windows in many programs, that doesn't work in Eclipse. Try ctrl-F6 instead, which will show a drop down list of open files and let you scroll forward through them. To go backwards in the list, use Shift-ctrl-f6. Cheers.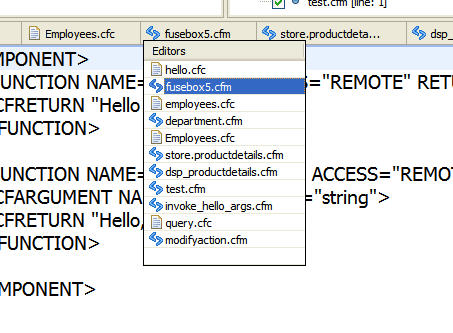 PS For other keyboard shortcuts I've shared, going beyond things related to CF, check out the category/tag on the topic at my other (older) blog, tipicalcharlie.com: http://www.tipicalcharlie.com/tags/?/keyboard%2Bshortcuts (domain gone, page recovered from Archive.org)
PPS The entry above on ctrl-f6 is just one more point to be made about looking at Eclipse as a whole when using either CFE or FD. Don't just focus on what those plug-ins add, but rather also on the built-in features of the Eclipse interface which may help you with day-to-day functionality.
Update: Since writing this in 2006, note the several comments below where people offered still more. And of course since then CFBuilder has come out, and with its built-in Aptana offers still more of them. Indeed, in a talk I did on hidden gems, I list other shortcuts for switching windows.
For more content like this from Charlie Arehart: Need more help with problems?

If you may prefer direct help, rather than digging around here/elsewhere or via comments, he can help via his online consulting services
See that page for more on how he can help a) over the web, safely and securely, b) usually very quickly, c) teaching you along the way, and d) with satisfaction guaranteed