Note: This blog post is from 2009. Some content may be outdated--though not necessarily. Same with links and subsequent comments from myself or others. Corrections are welcome, in the comments. And I may revise the content as necessary.
Do you run a Google Group (or belong to one) that's suffering spam? Here's how to stop it.
I belong to (and also run) many Google groups, which can offer a great solution for a hosted mailing list. Sadly, if the group owners aren't careful, the list can soonbecome a haven for spam.
But there are three simple solutions (one in particular) that the group manager can take to prevent the problem, and I am NOT talking about moderating every message. Two of them add only a little new effort for you as manager, but the reward is so worth it.
To make (or consider) the changes, visit the page to manage settings at http://groups.google.com/group/groupname/manage_access. Or to get there, select "group settings" on the right, then choose the "access" tab at the top, and make the changes below, which I discuss after the screenshot.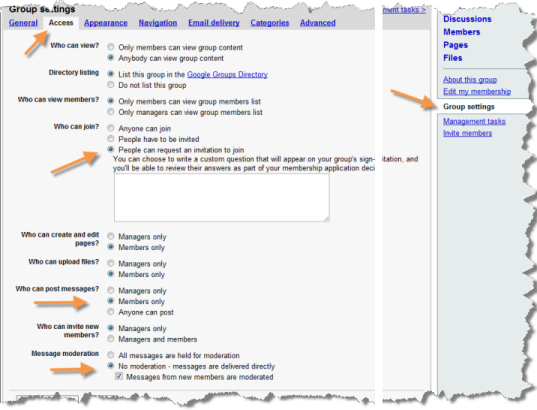 From there, change 3 settings:
"who can join" - change from "anyone" to "people can request an invitation to join". You don't need to use the "custom question" option. This will just require that people request you let them in. Again, most spammers won't bother. It's like how locking your car door causes most thieves to just move on. More than that, this changes it so that people can't just join by sending an email, which really is where most spam comes from
"Who can post messages?" - change from "anyone" to "members only"
"Message moderation" - you don't need to set it to "all messages are held for moderation. Leave it as "No moderation", but do consider checking "Messages from new members are moderated". Yes, it means that when a new member posts a message, you'll get an email with a link to view their message and mark them as either "always allow" or "block".
Doing these, especially the first, really will stop most of the spam. Your members will really appreciate it.
For more content like this from Charlie Arehart: Need more help with problems?

If you may prefer direct help, rather than digging around here/elsewhere or via comments, he can help via his online consulting services
See that page for more on how he can help a) over the web, safely and securely, b) usually very quickly, c) teaching you along the way, and d) with satisfaction guaranteed